Join me at the Opening Reception, Friday, Feb. 15, 2019, at 2948 Central St., Evanston, Illinois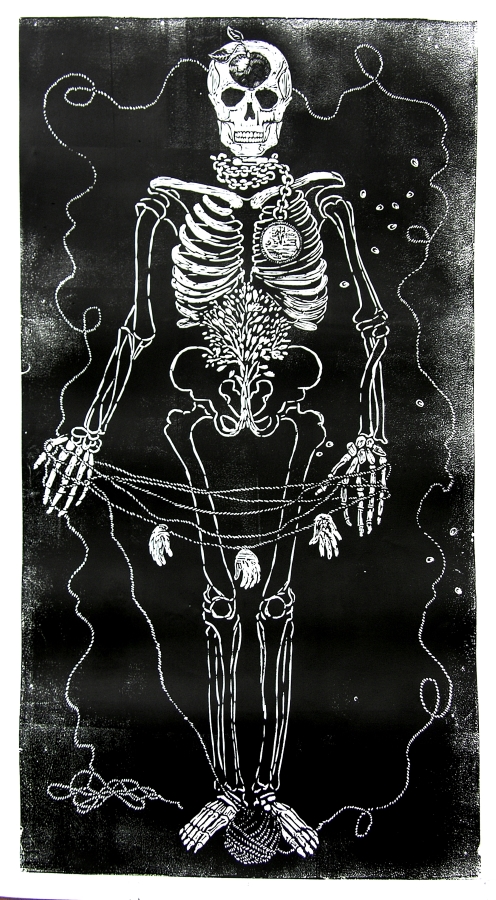 60" x 32" steamroller woodblock print by Judith Joseph
is on display at "Voices & Visions:
Standing on the Bridge Between Health and Disease"
Where: The Art Center, Highland Park
When: Now through Aug. 24, 2018
Opening Reception: Aug. 31, 5:30- 7:30 pm
1957 Sheridan Rd., Highland Park, Illinois
Painting The Natural World, my watercolor class Tuesday afternoons, at the Chicago Botanic Garden.
I asked for flowers to be brought to the first class as a subject. Since the CBG Orchid Show had just closed, we were given gorgeous Dendrobium orchids, which we were allowed to take home. Here is my demo piece for class.
My photos from the Orchid Show at the Chicago Botanic Garden.
Calligraphy and Floral Decoration at Chicago Botanic Garden
Thursdays, April 27- June 1, 2017
12:30 – 3:30 p.m. (6 sessions)
Classroom 5, Learning Campus, 1000 Lake-Cook Rd., Glencoe, Illinois

Call 847-835-5440 to register or click here
Watercolor Enhanced at The Art Center, HP
Wednesdays, April 5- May 31, 2017
1:00 – 3:30 p.m. (8 sessions)
1957 Sheridan Rd., Highland Park, Illinois

Call 847-432-1888 to register or click here

How do we enhance our watercolor paintings? With colored pencils, watercolor pencils, pastel and pen, we will make our paintings "pop" with deeper colors and rich textures. Classes are for all levels.
Invitation for artists to exhibit-- from Laura Roth, Development Director of Friedman Place:
I recently visited Jerusalem 1000- 1400: Every People Under Heaven, an exhibit of manuscripts and artifacts at the Metropolitan Museum of Art. Lucky for me, photography was permitted. Highlights include handwritten texts by Maimonides and Judah ha-Levi.
...AS SEEN ON NETWORK TV!
NBC TV's show, "Chicago P.D.", contacted me for a ketubah to use on the set of a Jewish home. Sorry to say, these people were the bad guys. But, fun to see a reproduction of Jason and Carly Bradford's ketubah on their wall!